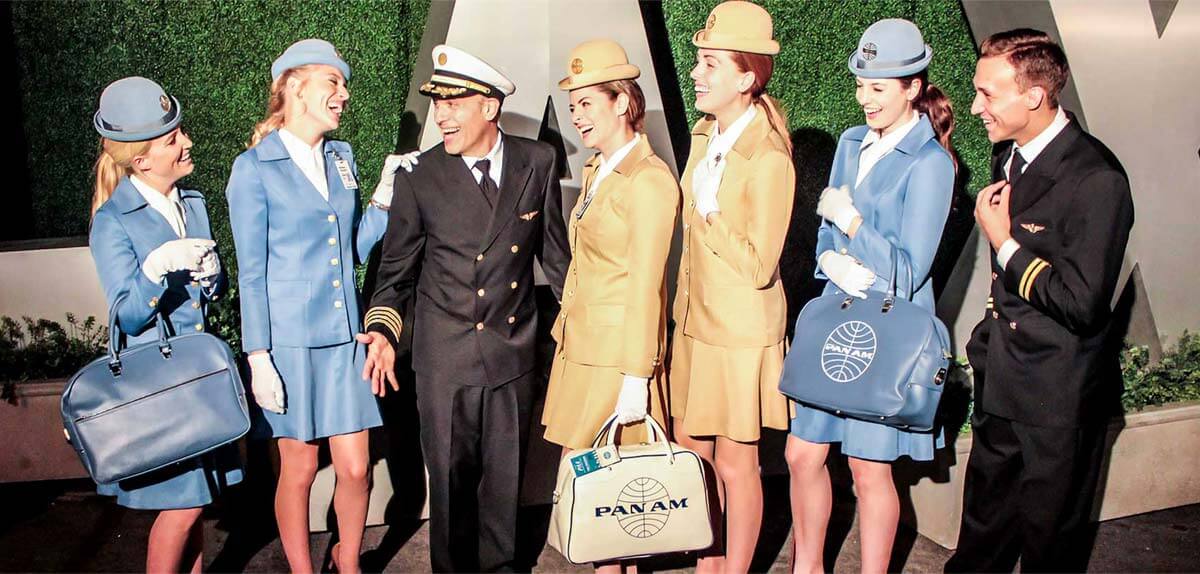 It may sound cliché, but we started in a garage. It's true… the first Pan Am Experience took place in Anthony Toth's garage in Redondo Beach, California. At the time, there was only half a fuselage. There were no hired stewardesses. And the only beverage Anthony offered his guests was Green Tea. The few friends that joined him on that day in the Fall 2007 were instructed to bring their own wine. Since those early pioneering days, the experience has moved locations twice and has taken on a life of its own.
The first move happened in 2012, when Anthony rented a warehouse in the City of Industry and constructed an entire 747-200 interior. The word spread to aviation geeks around the region, and Anthony's phone started ringing. Anthony's invitation-only parties grew in size and design. Suddenly, Anthony found himself running his own quasi-airline – hiring stewardesses, serving first-class meals, and refining many of the service features that would eventually become part of the Pan Am Experience.
Then in the Spring of 2013, Anthony met Talaat Captan – founder and CEO of Air Hollywood – and the resulting partnership was exactly what one might expect when the world's biggest aviation geek meets the owner of the world's largest aviation-themed entertainment studio. The new partners officially licensed the use of the Pan Am name, and Anthony's 747-200 interior would move once again, this time to Pacoima. With Air Hollywood lending its expertise in aviation mockup design and construction, Anthony's 747 was rebuilt with vast improvements including advanced Audio-Visual systems, programmable LED lighting, and central air conditioning. We also opened the Clipper Lounge for passengers to relax and enjoy a cocktail before and after their "flight".
On October 18, 2014, the Pan Am Experience officially launched with thirty-two guests in attendance, many who flew in from all over the country – from Chicago, Atlanta, New York, San Francisco to participate in the maiden "voyage". Many of our guests shed tears as they boarded the airplane and described how it felt to "breathe new life" into the iconic airline that we all cherished so deeply.
Since our opening night, we have sold out every seat in the house, many of which have been filled by former Pan Am employees who have shared countless memories and contributed in kind to the experience. Sharing in the nostalgia and excitement of former Pan Am crew members when they board our airplane is quite an honor for us all. In this way, we feel uniquely connected to the history of Pan Am, and we hope that our service delights our guests as much as the airline delighted generations of passengers before us.
We know you have many choices of retro-airline themed dinner parties, but we appreciate you've chosen to dine with us…
Carry on!